Small size: LED is basically a very small chip encapsulated in epoxy resin, so it's very small, very light.
Low power consumption: LED power consumption is quite low, DC drive, ultra-low power consumption (single tube 0.03-0.06 w), electro-optic power conversion is close to 30%. Generally speaking, the working voltage of LED is 2-3.6v, and the working current is 0.02-0.03a; that is to say, the power consumption of LED is not more than 0.1W, and the same lighting effect can save nearly 80% energy compared with the traditional light source.
Long service life: Some people call led light source longevity lamp. It is a solid cold light source with epoxy resin package. There is no loose part in the lamp body, and there are no defects such as easy burning, heat deposition and light decay of the filament. Under the appropriate current and voltage, its service life can reach 60000 to 100000 hours, which is more than 10 times longer than that of the traditional light source.
High brightness, low heat: Led uses cold light-emitting technology, the calorific value is much lower than ordinary lighting.
Environment protection: LED is made of non-toxic materials, unlike fluorescent lamps containing mercury will cause pollution, at the same time, LED can also be recycled. There is no ultraviolet and infrared in the spectrum, no heat, no radiation, small glare, cold light source, can be safely touched, it is a typical green lighting source
Durable: LED is completely encapsulated in epoxy resin, which is stronger than light bulb and fluorescent tube. There is no loose part in the lamp body, which makes the led not easy to damage.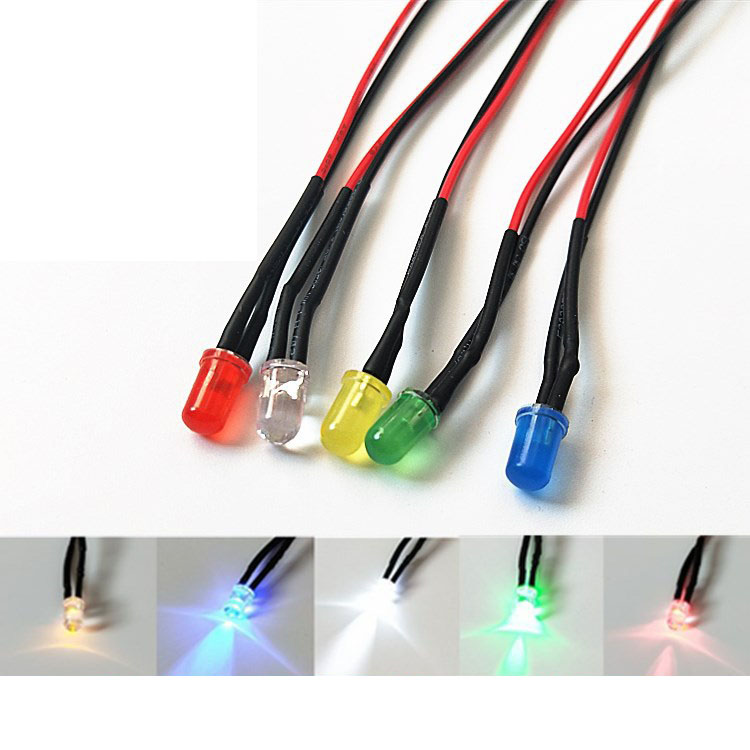 Product name:LED Luminous Diode Cable
Application:Toys and Signals
Rated Voltage: 3V
Rated Current: 20mA
Contact Material:Copper Alloy
Wire: UL1007/28AWG
Lenght: optional
Certification: ISO9001/ROHS/CE/UL
Lead time: 15-20 days, depend on specific order.
Packaging : Packed in bulk or as request
Warranty: 1 Year
Main Market: EURO, America, East Asia, Oceania
Quality: 100% Test before delivery
Service: OEM ODM Accept
Express: DHL, UPS, FEDEX, TNT, or designated forwarder.
Price terms: EXW, FOB, CIF or DDU
All of US Cable&Wire Harness are approved by UL, CUL with Rohs and Reach compliant.
If you don't find your cable assembly, please don't rush to go. You can email us your custom wire harness drawing and we will reply within 12 hours.
Whatever We can do for you,just feel free to contact US.