Kehan adds new equipment --- fully automatic double-head terminal machine,CR-08.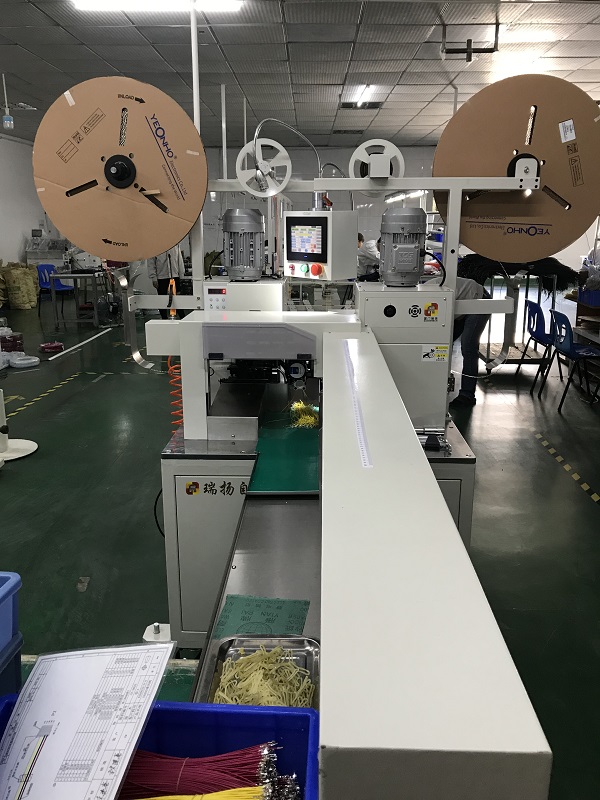 The output of electronic wires can reach 3000pcs/h, and the flat cable is 800pcs/h (12pin), which greatly improves the production efficiency and reduces the labor costs.
CR-08 High-speed Multi-function Automatic Terminal Machine is a full-automatic device that includes feeding, cutting, wire stripping and double-head crimping terminals.
Double head crimping terminal, all processes are completed automatically, saving production costs for the customers; it uses eccentric shaft and cam structure, the terminal pressing force is balanced, the terminals are crimped neatly, with good consistency, and the defective rate is reduced by about 5% -10%.
Take a look at its parameter table:
Basic Parameter
Working Pressure
0.4-0.6Mpa, Dry
Working Voltage
AC220V 50HZ
Rating Current
15A
Working Efficiency
800pcs/h(12p flat cable), 24h working
Fuction Parameter

Flat cables can process two or more at the same time

Electronic wire can process 12pcs at the same time

Terminals pressing at both ends, at one end, at intervals, at opposite side

Middle segment

Half-stripping ends

Replaceable mold

Processing Parameters

Cutting length
45-1000mmm(customized)
Front stripped length
0-8mm
Rear stripped length
0-8mm
Wires
AWG30#-18#flat cable, 26#-18#wires
Max width
28mm
Max P No.
24P
Find a reliable wire harness factory to complete your orders efficiently!
What are you waiting for, just contact us!