Standard Waterproof Emergency Stop Switch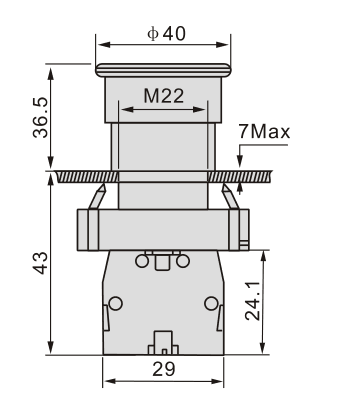 The push button series are used in controlling circuit of AC voltage up to 660V/AC 50Hz, and DC voltage below 400V. It is used for controlling signal and interlocking purposes. The main body of the button adopts zinc alloy and high-grade anti-flame plastic. the contact adopts special silver alloy in order to enjoy the benefit of high anti-electrical erosion. The signal lamp series are suitable for electrical appliances circuit of AC voltage up to 380/50Hz, and DC voltage below 380. It is ideal for using as indicating signals, warning signals, emergency signals, etc.
1. Surrounding temperature: -25°C~+55°C;
2. Air relative humidity: <=85%;
3. It can be normally work under following condition: vibration frequency is 2~80Hz and acceleration speed is 0.7g/h;
4. Pollution grade Ⅲ, installation sort is Ⅲ, protection grade is up to IP65;
5. Altitude: <=2000m.
PG denotes pure green; PW denotes pure white.
Basic Technical of Button

Rated insulation voltage
AC 600V (50/60Hz)


Current
10A
Insulation resistance
>=50MΩ
Contact resistance
<=25MinΩ
Mechanical life
100×10^4(Push button); 50×10^4(Selector switch/Key switches)
Electrical life
500×10^4(Push button); 250×10^4(Selector switch/Key switches)
Basic Technical of Signal Light

Insulation resistance
>=50MΩ
Contact resistance
<=25MinΩ
Pf withstand voltage
AC 2.5KV/min
Voltage wave
+/-20% 10A
Brightness

60cd/m^2
Continuous working life
100×10^4h