Terminal Inspection
The measurement method of the inner die conductor pressing height of the terminal: the standard of the riveting height varies according to the wire diameter, and the standard is determined according to the terminal model and the supplier.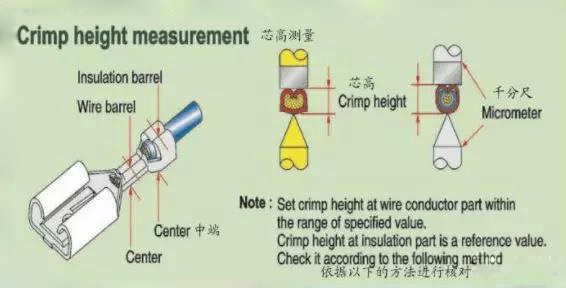 The outer mold of the terminal is insulated and inspected. After the conductor is pressed, the wire should be bent up and down 90 degrees three times to check whether the insulation coating is damaged or slipped. If there is surface damage or slipping, the height must be pressed again or readjust.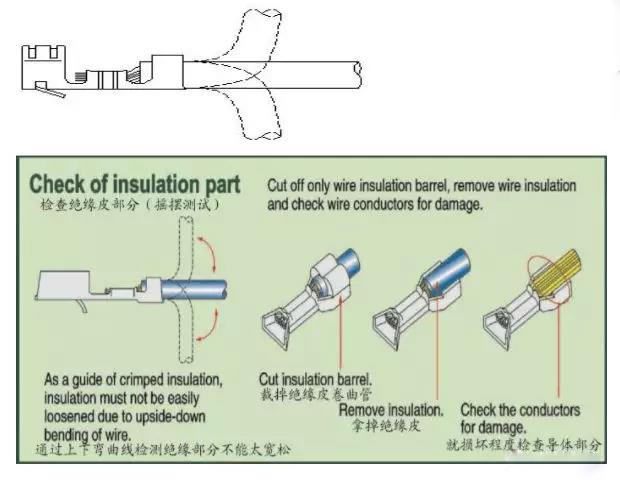 Terminal internal conductor tensile test and inspection method:

1. The test length is about 150mm, and the outer cover is about 20mm. It is tested by the intelligent tensile tester until the conductor is separated from the terminal. The data displayed on the tensile tester is the terminal pull force;

2. If the terminal is wrapped with a sheath, measure the tension of the terminal before removing the sheath and then measuring;

3. After the tensile test, the condition of the terminal after the terminal is pulled out should be checked. If the conductor core wire is completely broken in the inner mold of the terminal, the terminal clamping height is too low, the height of the inner mold of the terminal must be re-adjusted; if there is no conductor core wire When the core wire is left in the inner mold, the height of the inner mold of the terminal must be re-lowered (except for the riveting and double-wire terminal);

4. When the double parallel wire is riveted to a terminal, the core wire conductor shall not be exposed when the inner die of the terminal is exposed, and the tensile force of the double parallel wire may be within the range of the tensile force specification.

5. The functional end of the terminal must not have openings, deformation, distortion, etc. and should ensure electrical function and adaptation OK.

6. The terminal plating part can not be scratched, exposed yellow, oxidized black and other defects.


Related reading: Pin Terminal Connector,Automotive Wire Harness Assembly,RCA Wire Harness.